Video Borescopes:
The most powerful tools for the most advanced inspection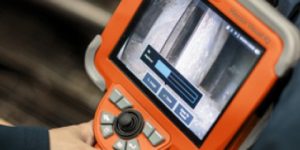 Put the power of productivity in your hands. We offer an array of advanced video borescopes, leading the market in advanced capabilities without compromising portability — designed to deliver the highest quality visuals with superior ease of use.
With an intuitive, patented joystick and one-handed operation, these systems feature integrated LCD video and a variety of imaging and measurement options. Video borescopes, like our Mentor Visual iQ, XL Lv, and XL Vu are engineered for durability and available in many diameters and lengths.
They allow you to map, measure, and analyze indications to reduce unnecessary downtime, scrap, and maintenance costs—as well as safety or risks. Equiped with TrueSight™ imaging to improve Probability of Detection (PoD) and Real3D™ to ensure unprecedented measurement confidence so you can make better decisions, faster.