X-Ray Film Certification & Quality Assurance Tools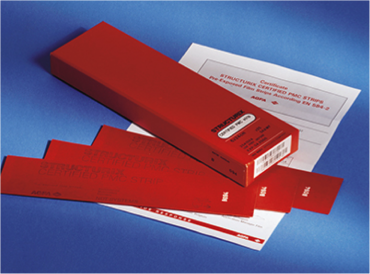 To assist our customers in making sure their film systems render the expected capability in daily use, we refer to the standards for radiographic examination. EN444, ISO 5579, ASTM E94 and other standards specify required film processing in accordance with the recommended conditions, and special attention to monitor and control developing, fixing and washing. STRUCTURIX Quality Assurance Tools are a set of practical, dedicated tools for the radiographer to control and prove compliance of the entire system.
X-Ray Film Quality Assurance Tools
PMC Strip (Process Monitoring Control)
STRUCTURIX Certified PMC strip: A handy, fast and reliable tool for monitoring the quality of the film processing system and for proving compliance with existing standards on systems classifications.
STRUCTURIX PMC STRIPS (without certificate): Used to monitor the performance of the STRUCTURIX processing system in order to guarantee consistent quality.
X-ray Pre-exposed Film Strips: Produced under the Quality Management System conditions according to ISO 9001-2000.

STRUCTURIX CERTIFIED DENSTEP
A density step wedge film to verify the calibration of optical transmission densitometers used in the industrial X-ray field.

STRUCTURIX THIO-Test
Provides means for performing the control of fixing and washing as described in EN 584-2 and ISO 11699-2.
X-Ray Film Certification
BAM & ISO Certifications
STRUCTURIX film systems are fully compliant with standards issued by the independent German Federal Institute for Material Research and Testing, BAM
Assures compliance with the Industrial Film Systems Classification Standards
Entire film system – including films, chemistry and equipment – produced under a strict Quality Management System approved to ISO 9000
All certificates available for download